Overview
Graphx® Inc, a privately held, 20-year-old software company, is a market-leading developer of distributed photo printing software and services. Pete Traversy, Graphx' founder and CTO, created the company with a clear vision: that software would add significant value to the performance (throughput and print quality) of high-end color print devices. Pete began developing a proprietary technology platform that has evolved into the award winning RasterPlus® line of software products.
Today, RasterPlus software enhances the performance of over 100 high-end color output devices including digital minilabs, ink jet printers, thermal printers and color film recorders. Leading hardware manufacturers such as Fuji, Gretag, Kodak, Noritsu, Polaroid and Epson resell Graphx software today. There are more than 15,000 RasterPlus customer installations in over 45 countries.
In recent years Graphx has won multiple awards for printing excellence, including the 1998, 1999, 2000 , and 2003 Photo Marketing Association (PMA)/Digital Imaging Marketing Association (DIMA) Printer Shoot-Out Awards, the 1999 Photo Electronic Imaging magazine Cool2 Award and the 2000 Digital Output Magazine Readers' Choice Award. In 2003, Graphx won the Overall Top Technology of 2003 and 2004 award from PTN magazine.
In April 2002, Graphx began shipping Photogize®, a strategically important product built on the RasterPlus technology platform. A significant new market segment, the digital photo print market, is growing rapidly today, and tracking with the rapid growth of digital cameras. Photogize addresses this market opportunity by providing photo retailers with a simple, turnkey solution that they offer as a new service to digital photo consumers.
Graphx, Inc.
400 West Cummings Park
Woburn, MA 01801

directions
voice: 781.932.0430
fax: 781.932.0855

---
---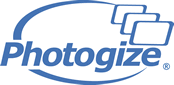 Management

Joseph T. Kowalik - President and CEO
Joe joined Graphx in March 2002. His focus is to create new Photogize business relationships with digital printer manufacturers and photo retailers.
Prior to Graphx, Joe spent two years at Virtual Ink Corporation, Boston, Mass., where as VP for Business Development he established strategic supply agreements with Apple Computer, 3M, Steelcase and Polycom. Joe's extensive experience in new product development, strategic marketing and sales comes from a 17 year tenure at the Polaroid Corporation, where he was involved in more than 25 new product launches that generated more than $300 million in sales.
Joe earned a Master's degree from the Harvard University School of Design, where he was an EPA Fellow, and a B.S. in Engineering from Cornell University. He also completed the Strategic Marketing Management Executive Program at the Harvard Business School. Joe lives with his wife, two children and flat-coated retriever in Marblehead, Mass.

Peter Traversy – Founder and CTO
Pete is the chief architect of Graphx' RasterPlus and Photogize technology platforms. In 1985 Pete left his engineering job in the robotics industry to found Graphx Inc. One year later he completed the industry's first general-purpose full color print management software for color film recorders.
In succeeding years, Pete continued to lead the development of innovative, market leading software solutions for the digital photo marketplace, including the first PostScript® print manager for photo printers in 1990, the first PostScript print manager for Microsoft® Windows® in 1996, the first general-purpose print manager with TrueGraphx®, an integrated ICC-based CMM (Color Management Module) in 1998, and the first general-purpose digital minilab print manager in 2000.
It was Pete's innovative developments that directly lead to Graphx' ability to create OEM relationships with major photo industry manufacturers. His pioneering work in combining PostScript with digital photo imaging has led to the photo industry's adoption of PhotoDocument™ printing, output which combines rich, photo quality images with razor-sharp text and graphics. He has developed software other utilities for the photo industry including Winslide®, Macfilm®, SlideHost™, SlideView™, VS/Port™, LS/Port™, META/Port™, SCR2PAC™, and PackagePlus®.
Pete graduated with a B.S. in Mechanical Engineering from Rensselaer Polytechnic Institute. Pete lives in Cambridge, Mass with his wife and two sons.