Basic Starter System Workflow
The Photogize system creates a custom print order page on the Internet based on the information (products, prices, branding, business rule) that you input into Photogize Lab.
Consumers browse to the web page, upload photos, make print selections, and check out.
The photos and order are stored on a secure server.
The photo retailer can manually or automatically "harvest" these orders and photos, review the order, and prejudge the images.
The order can then be automatically or manually printed to virtually any device, including all major digital minilabs and photo printers.
FastStart System Workflow

Photogize FastStart is the fastest, easiest way to publish and manage an online fulfillment system. FastStart has all the features of Basic (above), but creates print jobs in hot folders that you can harvest and print using your minilab's input software.


Stay Informed! Just enter your contact information and click Add Me! to get the latest Photogize News.
* required
*
*
*
*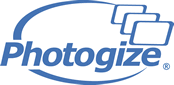 ---



---