| | |
| --- | --- |
| CreativeKiosk Features | CreativeKiosk Benefits |
| High performance PC hardware | More finished orders every day |
| Dazzling 23" HD touch screen display | Attract new customers & fuel in-store excitement |
| Plug-n-Print - easy installation | Take new print orders immediately |
| 2,500 templates preloaded | Excite customer creativity & choice |
| Upload kiosk photos to web albums | More photo sharing & reprint opportunities |
| Download web photos to the kiosk | More flexibility & convenience in ordering |
| Uniform UI for kiosk & web ordering | Shorten your customers' learning curve |
| Award-winning in-lab workflow software | Decrease lab labor & improve print quality |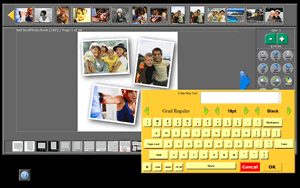 ---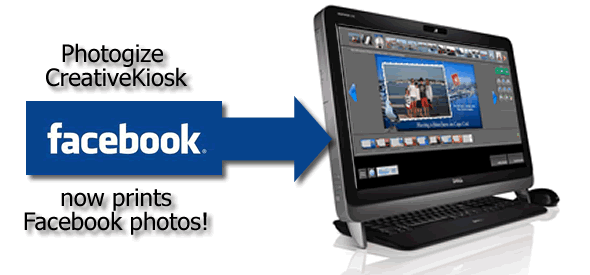 ---

Facebook Connect
With our new Facebook Connect option, your customers can now print their Facebook photos and friends' photos. No media card needed! Just log in at the kiosk, pick your photos, and print. Please contact Graphx sales for more information...
Same Simple User Experience…
At Home & In-Store
Consumers and retailers both love the simple and friendly Photogize user interface-- to order prints, create a photo book of a recent family event, or make a folded card with multiple photos and text. Our
simple, online photo compositing "mixing bowl" page quickly became second nature to web consumers, as they created photo specialty products. Now kiosk customers will enjoy the same, simple photo compositing "mixing bowl" UI on a Photogize CreativeKiosk. Plus we make it easy for consumers to use your Photogize kiosk and online services together, giving local retailers unique "Click & Brick" selling opportunities. Kiosk consumers can access photos in
their PhotoCentral online gallery to create a kiosk print or specialty product order and can upload photos from your instore CreativeKiosk to their online photo gallery.
More Creative Products than ever!
Over 2,500 professionally designed templates for:
Flat Greeting Cards
Folded Greeting Cards
Photo Books
Multiple page Calendars
Single page Calendars
Creative Border Prints
Poster Prints
Coffee Mugs
Puzzles
Mousepads
T-shirts
Water Bottles
Coaster Sets
Tile Photo Gifts
Aluminum Art
Much more!
Stimulate Your Business by Stimulating Your Customers
This new version of our Photogize CreativeKiosk software is designed specifically for the latest Dell All-In-One Touch Screen PCs. This sleek unit that HAS to been seen to be believed! The All-in-One design features a 23" diagonal touchscreen in today's HD widescreen format (16:9). The dazzling 1920x1080 ultrahigh res display gives your customers 67% MORE VIEWING AREA than competitive 17" displays. The larger display area dramatically improves customer viewing and ordering. The CreativeKiosk HD23 makes consumer ordering easy and enjoyable. For example, a slimline photo greeting card proof on the HD23 is 50% larger than the final 4"x8" print output. Customers who use the CreativeKiosk HD23 will tell you Bigger IS Better.
Simple to Install and Operate
Everything you need comes in a single box, ready to go. Just plug the power cord into a standard AC
outlet and you're 5 minutes from taking your first order. Networking the CreativeKiosk HD23 is a breeze,
with integrated wireless WiFi. So install the CreativeKiosk in your store without the hassle and
expense of network wiring. And because kiosk photo products are defined centrally in Photogize Lab, adding new specialty photo products in your CreativeKiosk HD23 can be done in minutes, not hours.
Sell More Products and End Customer Confusion
Today's consumers want a wide selection of high quality photo prints and creative products. But they don't want the confusion caused by finding one set of photo products on your website and a different selection of products on your kiosks. When you upgrade to Photogize CreativeKiosks you can be certain you'll avoid this customer confusion. Your kiosk product selection will be EXACTLY the same as your online PhotoCentral Platinum service. Your new HD
CreativeKiosks will include an extensive set of more than 2,500 professionally designed templates –
the same set found in PhotoCentral. And adding new specialty products to a CreativeKiosk is easy. Activate
new specialty products centrally in Photogize Lab and your new specialty products are immediately
available-- in-store at your CreativeKiosks, and online at PhotoCentral.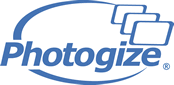 Cut Costs, Not Corners
In these challenging economic times, making the right vendor and product decisions is critical to your business survival. To support your best customers today… with high capacity memory cards… you need a kiosk with power. But don't spend more, spend marter. The Photogize Kiosk HD23 with Dell PC hardware is the most cost effective photo kiosk in the market today. Give your customers a kiosk experience that keeps them coming back. Ask about our Photogize BusinessBuilder Plan for a kiosk and online system designed to save you money. We can lower your operating costs, while improving the photo services you offer your customers. In 2011 select a single vendor who can give you a reliable, integrated solution for both kiosk and online photo print services.