Improved Shopping Cart
The all-new PhotoCentral Shopping Cart is persistent from one customer visit to the next. So, if a customer leaves your website before checking out, their print selections will remain in their cart when they return.
Share It All
You can share any PhotoCentral album to a family member or friend with your customized message. PhotoCentral even features an Address Book where you can define groups like My Friends, My Family, Baseball Mothers, etc… - you can share to everyone in any group with a single click.
Photo Blogging
Album owners and their share recipients can add a running commentary to any photo in an album. We call them Yaks. And anytime a yak has been added to a photo, the owner and last yakker get notified by email. The recipient clicks a link in the email and gets sent directly to the yakked photo in PhotoCentral.
Photo Tagging
You can specify the caption, people, event, date, place, and even rate your online photos. We call this photo tagging. And you can search your albums and albums shared to you for matches to these tags. PhotoCentral will display the found photos in a custom view – you can even save this view to a new album. And share it!
Affordable, Sensible Storage Model
PhotoCentral offers complimentary storage for all uploaded photos. You can view, print, and share your photos for up to thirty days. If you wish to extend the storage period, we charge only 5 cents per photo per year, and keep the photos safe in our Microsoft Gold Certified Data Center.
Completely Customizable
The products, prices, business rules, and branding that you define in Photogize Lab are used by Photogize WebServices to dynamically create a customized PhotoCentral. Photogize Lab gives you the link to your web site. All you need to do is put a button on your site which, when clicked, sends your customers to your PhotoCentral. And our new RetailerCentral web application gives you more control than ever over your web presence.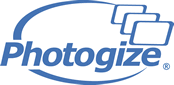 Introducing PhotoCentral 4
PhotoCentral 4 is the exciting new, improved online service from Photogize that lets your customers View, Edit, Share, Print and Archive their digital photos.
PhotoCentral 4 features an all-new, tabbed interface that simplifies consumer navigation and online ordering. The all-new landing page features a rotating set of consumer marketing messages.
Windows and Macintosh Friendly
The look, the feel, and the fun of PhotoCentral are identical on Macintosh and Windows computers using Internet Explorer, Firefox, Safari, or Google Chrome.
An Exciting New Way to Look at Your Photos
PhotoCentral features ActiveGallery™, a dynamic, Macromedia Flash-based album display system. Your photos and albums are displayed with subtle drop shadows, fades, and smooth swooshing movement. PhotoCentral 3 adds to the fun with quick rotate and delete shortcuts.
Desktop-like Web-based Edit Tools
PhotoCentral lets photo owners crop, zoom, pan, grayscale, and antique their online photos. You can even remove red-eye with one button click. You can undo any edits and even revert to the original photo at any time.

Publish and Fulfill In-house Specialty Products
Now you can create personalized books, calendars, folded cards, posters, and more using our exclusive new MixingBowl™ design tool. PhotoCentral includes over 1000 templates with advanced features like drop shadows, picture-on-picture, sepia and grayscale, and photo reflections.
And Photogize Lab 4.0 will fulfill all these products directly to any minilab, printer, or PDF-compatible downstream workflow.

Better Photo Printing
PhotoCentral features a new WYSIWYG photo cropping tool that's part of the Print Order page. Your customers can now crop their photos, in the aspect ratio of the print size they just ordered, without leaving the Print Order page.
---



---