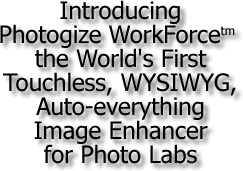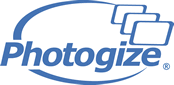 Enable A Full Suite of Print Quality Enhancements
Adaptive Color Enhancement
The Adaptive Color Enhancement analyzes and removes color casts in both shadow and highlight areas of a photo. Analysis is applied to both
linear and nonlinear casts, generating results that can differ over various parts of an image.
Shadow and Highlight Enhancement
Shadow and Highlight Enhancement is one of the most important image enhancement processes, especially in the shadow areas where much
more detail will be shown and in highlight areas near saturation.
Local Sharpness Enhancement
The LSE algorithm performs a variable sharpening of the image, depending on object recognition algorithms.
Local Noise Reduction
The LNR algorithm performs a special noise reduction on specific parts of the image.
Automatic Redeye Reduction
Automatic Red Eye Reduction Red eye reduction is automatically applied to images. This filter can be set in one of three positions: Apply to All Photos, Apply to Flash Photos Only (based on reading photo tag data embedded in JPEG photos), or Off.
Memory Color Enhancement
As numerous photo print quality studies have shown, specific key color hues for skin, sky, and vegetation, must be pleasant to the human eye in order for an overall photo print to be evaluated as acceptable. The MCE Memory Color Enhancement analyses and
adjusts these key color hues.
The New WorkForce in Your Lab
Introducing Photogize WorkForce™, the new software plug-in for Photogize Lab that AUTOMATICALLY reduces red eye and dramatically enhances the print
quality of all orders sent to Photogize Lab. With WorkForce your photo lab will see a marked
improvement in photo print quality while you lower the labor required to manually correct photos in your lab.
An Open Pipeline for Enhancing Photo Print Quality
WorkForce supports all Photogize print order services, including all Photogize online services, Photogize kiosks, third party kiosk providers supporting the Photogize XConnect interface, and local orders
you create using Photogize Lab.
The Photogize online order services supported include PhotoCentral, Basic Print Ordering, PrintWizard, Photogize Events and Photo Greeting Cards. Simply check the "Use WorkForce" box in Photogize Lab and our proprietary imaging technology does the rest. Every print order received by Photogize Lab is now automatically WorkForce processed.

Because WorkForce is also applied to photo thumbnails and previews, WorkForce provides you with a FULL WYSIWYG photo quality enhancement workflow. If desired, you can preview WorkForce-processed photos in Photogize Lab before printing, to
make further edits as needed, or to undo WorkForce processing on a specific photo or order.

DigitalFinish™ by Photogize
Your Workforce license includes the right to use our new DigitalFinish logo in your retail marketing. Using
the DigitalFinish logo in your marketing messages will tell your customers they are receiving the highest quality photo prints available, using the latest imaging
technology. And only photos processed with Photogize
WorkForce are licensed to carry the DigitalFinish™ brand.
---




---